Posted on 9th July 2020 by Jon Terry
Checklist : 10 things to think about when looking for a job.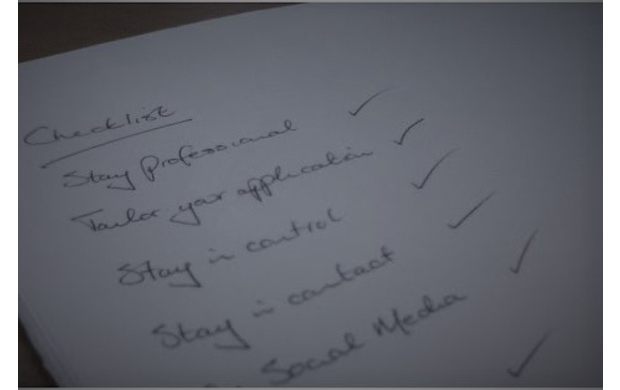 As we come out of the lockdown and find ourselves returning to work mode there is a chance that you may be looking ahead to future job seeking and thinking about how you can be giving yourself the best chance to be noticed.
Here are 10 things for you to think about when looking for a job.
1. Stay professional.
Make sure that your Linked In profile picture is not one of you out in a pub (or worse). Make sure your email address is professional (not iamgreat@gmail.com). Make sure your voicemail is business like. Make sure your CV is not written in Comic Sans Serif or similar, choose a professional font and keep the language and content business like.
2. Tailor your application.
It is easy to "click to apply" and just send your CV with a "nothing to lose" approach. But instead make sure you take some time over your application. Have a look at the advert and think about tailoring your CV and cover letter to make sure that the relevant skills that you have stand out. Show them you have the right skills for the job.
3. Have a CV that you are happy with.
It is all very well having a professionally written CV but make sure you know what it says and why. It is always embarrassing to have to say "Sorry does it really say that on my CV?" during an interview.
Read our blog on Writing the Perfect CV.
4. Stay in control.
There will be a temptation to apply for anything and everything that you see advertised remember that you should still tailor your CV and cover letter when you do so. AND importantly keep a track of what you have applied for, when, with whom, and WHY. Nothing puts recruiters off more than ringing a candidate to ask them about their application and spending the first 5 minutes reminding them what the job is that they applied for. It is relatively easy to set up and access a spreadsheet (even on your smartphone) and so impressive if you can show that caller that you are being professional about your job hunting.
5. Stay in contact.
Make sure that your contact details are easily accessible on your CV and Linked In profile. If someone has found your details and like the look of you then they will want to talk to you. They are more interested in your phone number than your hobbies! AND if you are left a message try to call that person back as soon as possible. 2 days later and the recruiter might have found someone as good and arranged an interview.
6. Use Social Media. But use it well.
You know that there is no getting away from Social Media and it's used more and more in recruitment. Some people shy away from it but done properly it could give you a competitive advantage over your competition. Get your profile as up to date as you can on LinkedIn and be prepared to invest some time looking for jobs on Twitter and Facebook. Just be careful about those dodgy pictures you might post on Facebook if you are using Social Media to find a job!
7. Don't forget to Blow Your Own Trumpet.
Nice people don't usually tell you how great they are when they talk to you. And they usually like to give other people some credit when it comes to achievements. BUT when you are looking for a job make sure that you tell people what YOU did and don't overdo the WE.
8. Take time to get to know your Recruitment Consultant.
The interesting thing about Recruitment Consultants is that they Recruit! If you get to know them and can build a relationship with them they are the person who will champion your CV to a prospective client even if you do lack a specific skill set or perhaps don't have the required industry sector background.
9. Work at it.
Many Job board adverts would have you believe that all you need to do is post your CV on a Job board and jobs will find you. Maybe… but don't assume they will. Make sure you keep an eye on all job postings (even the old fashioned paper ones) and don't be scared of approaching people speculatively yourself. If a company advertises a job or assigns an agency to search for them then they have a recruitment cost and will only want to appoint a candidate who can convince then utterly that they are suitable. If you can present yourself to a company with no costs attached then they "might" be able to afford you or be prepared to "give it a go".
10. Stay Positive.
If you apply for lots of jobs then the chances are that some of those applications are going to be "long shots". Job rejections can be demoralising but if you are rejected for "long shot" applications remember to not let it worry you.