Posted on 1st March 2023 by Paul Wright
Key Sales Skills for the Future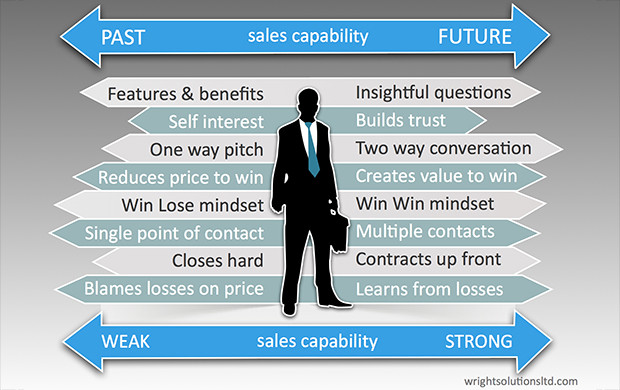 Blast from the past! Can you believe some sales trainers are still teaching techniques from over 100 years ago? It's time to move beyond features and benefits and learn the key sales skills for the future. Let's take a trip down memory lane to explore the history of sales skills.
In 1898, E St Elmo Lewis developed the first sales process, AIDA. Fast forward to 1914, Forbes Lindsay documented the defined skills for insurance salesmen, including features and benefits, objection handling, closing, and open and closed questioning skills. In 1961, McMurray defined the roles of salespeople in terms of a spectrum from order takers to field salespeople. In 1985, Churchill researched the determinants of salesperson performance. And in 1987, Rackham wrote Making Major Sales.
But hold on a minute, are we still using these techniques today? If your sales team are still trying to sell based on features and benefits, putting their self-interest first and using a standard pitch, then they're stuck in the past.
Here are the key sales skills for the future that will give you the competitive edge:
Asking questions that create insights.
Building trust and putting the customer's needs first.
Communicating in a synchronous way through conversation.
Creating and communicating value.
Adopting a win-win mindset.
Having multiple contacts to understand the wider needs of the organisation.
Contracting upfront to manage expectations and close naturally.
Learning from lost deals in an accountable way.
We know that understanding good sales techniques is the easy part. The challenge is to practice these techniques consistently over time to become a great salesperson. That's where our Bitesize sales training comes in. Our high-impact workshops consist of five 1 Day sessions that will supercharge your sales skills and grow your revenue http://bit.ly/3yyO1QJ.
Don't get left behind with outdated sales techniques. Give us a call at 0121 222 5599 to learn how we can help you transform your sales team's capabilities and stay ahead of the competition.
Find out more about Transforming your sales team's capabilities. HERE.