Posted on 6th January 2017
Pitching Skills
Creating a winning sales pitch is all about making customers acutely aware of the value that they will derive from your solution and compelling the audience to action through insight.
However, how often do you or your team's review your presentation style? Or even the presentation material?
A sales professional who can create powerful customer insights and communicate the differentiated value that your solution brings is of exponential value to your organization.
How does Pitching Skills sales training work?
This sales training course illustrates that, central to a successful pitch, are two components; a compelling business case and the insights that will significantly improve your client's business.
But more than that you need to know what type of audience are in the room and how they should receive the insights and information that you are communicating.
The 'PITCH' framework is a comprehensive and impactful way to communicate your value to the decision makers: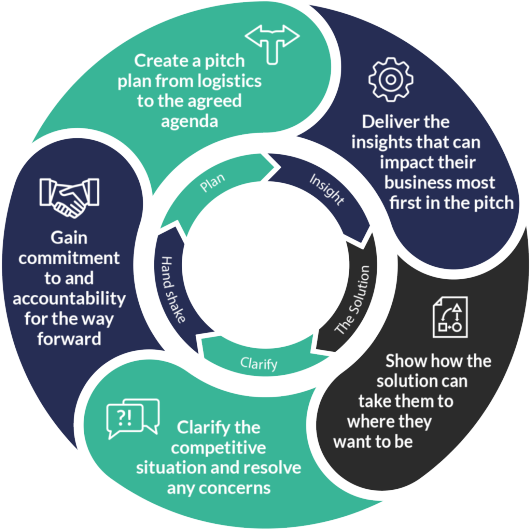 Plan: Create a pitch plan from logistics to the agreed agenda.
Insight: Deliver the insights that can impact the customer's business.
The Solution: Show how the solution can take them to where they want to be.
Clarity: Clarify the competitive situation and resolve any concerns.
Handshake: Gain commitment to and accountability for the way forward.
What are the benefits?
By the end of this training course, delegates will be able to:
Understand the importance of preparation in achieving improved outcomes.
Agree specific desired outcomes with all stakeholders before pitching.
Understand different audience profiles and how to create an engaging pitch that captures their attention.
Focus the pitch on the customer's challenges and opportunities.
Quantify the benefits and ensure that a robust business case is communicated to the customer.
Share compelling insights that create value for customers and your own organisation.
Communicate the differentiated value that your solution will provide.
Deliver pitches with greater credibility and confidence.
Win more often.
This high impact sales training course has been designed to deliver positive results for anyone who is expected to deliver face-to- face presentations as part of their role.
Who should attend the course?
Pitching Skills is right for any member of your team for whom communicating value and influencing customers (internal and external) to make a favourable decision is an important part of what they do.
This could include people working in a variety of disciplines including:
Sales Professionals Account management professionals.
Business development professionals.
Marketing professionals.
Finance and HR professionals.
Delivery options
Pitching Skills can be tailored to the specific needs of any organization. We use live or simulated customer interactions to deliver insights into how to influence people to make a favourable decision.
Delegates will also be involved in 'real world' pitching sessions to ensure that the new skills become embedded and that you achieve short and long-term sales improvements.
Tailored on-site live programmes.
Train the Trainer (Client Associate).
Blended e-learning and live programmes.
Ready to speak to an expert?
To transform your sales people and performance, and inspire your business to reach its full potential, start talking to us today. We'd love to hear from you.
Give us a call on 0121 222 5599 or send an email to info@wrightsolutionsltd.com to find out more.